So this week involved hip pain. Yay.
Before I get to the recap, I added an About Me page over on the sidebar there.
Check it out!
At some point I'll add a race results page, too, because why not.
Monday:
TRX. Lots of ab work.
Tuesday:
Easy 9k at lunch. The Osler hill remains a pain in the
ass
calves, but I guess it's a sign of progress that it doesn't seem as big anymore.
The run felt great - sun shining, not unbearably cold, etc. Afterwards, though, my left hip was kinda sore. Hmmmmmmm. Felt fine by the evening.
Wednesday:
Hip wasn't hurting, so I set out to run 5 x 1k intervals. By the end of the third interval, though, I could tell something was wrong, and my times on the intervals were a bit slower than they should have been (5:00/km instead of the 4:50 I was aiming for and should have been able to hit relatively easily). So I packed it in at 7k done and retreated to my office with an ice pack. Did a yoga video in the evening to see if that would help. Maybe? A bit? Hard to say?
Thursday:
Woke up to sharp pains in my hip while walking, although that loosened up fairly quickly and went away. But my hip flexor was also really stiff and just the whole thing felt Wrong. So, unscheduled rest day.
Friday:
Woke up to mild pain, and a lot of stiffness. Off to physiotherapy, where the therapist worked her physio voodoo to determine the problem wasn't even in my hip at all, but my low back. I would not have guessed that, although given my off and on sciatica problem, it makes sense. Thanks for that, kids - I first got sciatica while pregnant and it's come and gone ever since. After a half hour of stretching and prodding and locating painful release points, she got me back into alignment and feeling great; I felt like I could have thrown on running shoes and gone for a run right there. But I didn't, because that would have been dumb. A rest day now to hopefully avoid too many more of them later! She also gave me a series of stretches to do to help keep things orderly back there. Best part is they are lying down stretches. Lying down is great.
Saturday:
Usually I do my long run Saturday, but I didn't want to jump straight back to a long run without a shorter test run first. The day started well - hip and back felt great, and I got an email from lululemon with the shipping information for the skirt I bought as my
half marathon PB reward
. And another email from them with a $25 apology gift card (
they had a whole shipping delay disaster this week
). Which was a nice surprise! The shipping delay didn't bug me much because it's not exactly skirt weather here yet anyway, but I'll happily spend that $25!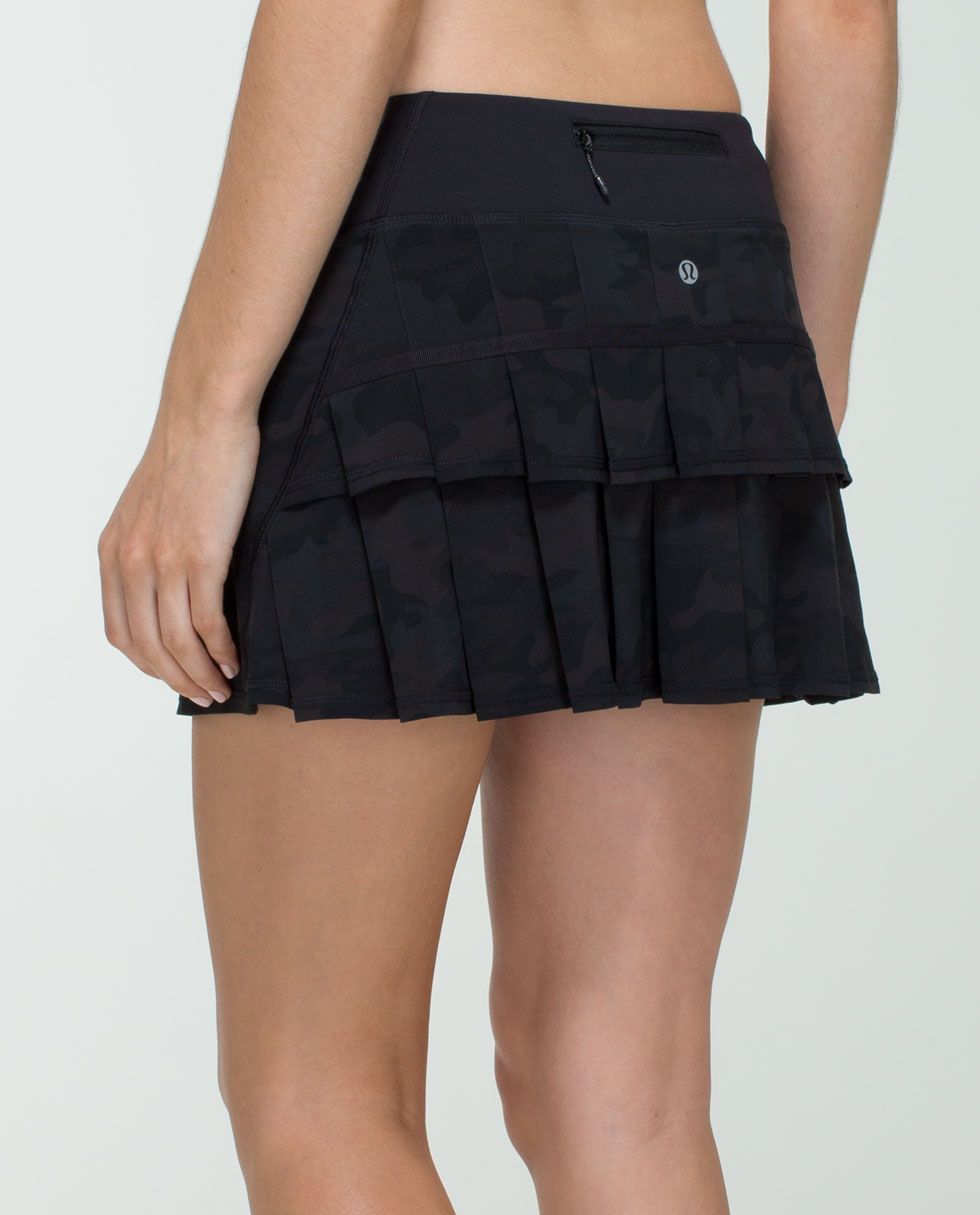 My new skirt - black camo pacesetter. My legs have more stretch marks than the model. Might wear it for Around the Bay, haven't decided yet.
Ran 8k and it felt pretty good. The hip was definitely stiff but felt fine to run.
Sunday:
Plan called for a 16k run. This is why I like to get up early and run by the lake:
I never get tired of this.
Hip still stiff, but manageable and better than the day before, so no trouble running the 16k. By the end of the day it felt perfectly fine, in fact. I may make another physiotherapy appointment, depending on how Tuesday's run goes, but as of now, it feels back to normal.
Weekly summary:
41k run, 1 TRX class, and back to physiotherapy. Not exactly what I wanted, but it'll do.
Next up is Around the Bay. The tentative plan is to run with Patty and possibly my brother, aiming for a 2:45 finish. However, that assumes I'm fully healthy. If there are any further issues with my hip/back I will treat ATB as a training run. But I won't be making any decisions on that until later this week.
And there's also the incredibly important decision of what to wear for the race! I have about 4 potential outfits in mind, but a lot depends on the weather.