Last race of the season (or at least the last one I'm currently registered for. It's a long time until Around the Bay in March so there's probably going to be another race or two added to the schedule soon). Gave up on the weekly updates a while ago because ugh, bored of myself, but basically the prep leading up to the race was decent on the swim and bike side, and disappointing and frustrating on the run side of things. Essentially running has just felt pretty shitty ever since Muskoka, so I didn't have high expectations of the run for this race. I knew I could get through 21.1k, but it probably wasn't going to be pretty.
This year we decided against going to Niagara for the weekend - we live close enough to the race site that it's still reasonable to drive in the morning of, and we wanted to save a Niagara trip with the kids for something that doesn't involve them standing around watching mom race for a full day, which is really not the most exciting thing. Plus I kind of want to go to the waterpark myself. Yay waterslides!
So, Saturday
Ivanka
and I drove over with our bikes to drop them off, pick up our kits, and attend the pre-race briefing, which was basically the same as last year. John Salt did announce that they had decided to pick a random finish spot, and whoever finished in that spot would win a Computrainer, which made the entire room go 'ooooooooh'. I also did the somewhat pointless 'cover your bike with plastic bags' thing, mostly because everyone else was doing it, and I figure if someone did break into T1 overnight and steal a bike, they'd probably bypass the ones attached the racks with garbage bags.
Obligatory tri crap photo. It's been a long season.
Saturday I was up really early to get a ride to the start with my neighbour Natalie, her husband, and Stephen and David, a couple of hilarious and awesome guys from my tri club. I'm not sure I've ever had quite that many laughs on the way to a race before. Especially at 5:30 am. Possibly our inability to find an open gas station seemed more hilarious due to the time of the morning and general lack of sleep!
Sunrise at the swim venue
So yeah we got there a little bit early, but it's not like I was going to sleep past 4 anyway. And I was able to reassure myself that my bike and borrowed race wheels were still there. Really, I was most worried about the wheels, since I'd have hated to have anything happen to them. Big thanks to Laurence for the loan.
Thank god it's all still here.
We remembered to get a picture with
Nicole
this year! Best volunteer around - not only was she there stupid early to do body marking, she also volunteered at the finish line. That is a longass day. You are the freaking best, Nicole. Love ya. Plus you will get her hear her screaming at me later in this post. It's worth sticking around for, trust me.
Got my stuff organized, almost sent my swim goggles to T2 in my post race bag but realized they were in there just in time (OH MY GOD), and made
Irina
cry. Um, sorry? Maybe we should have given you the birthday card after the race?
Pre race with Sam and Irina
Checking out Irina's butt. She's making that 'birthday girl' ribbon look damn good!
Chatting with the Canucks before heading for the swim start. Photo via TriChick Jennifer
A lot less nervous this year as I got into the wetsuit and headed for the start. I paddled around a bit, got comfy, was attacked by an enormous patch of seaweed (canalweed?) that was super disgusting, and eventually located Sam & Irina for last minute good luck wishes before our wave headed out.
Pink caps waiting for the start. I'm out somewhere by the yellow buoy. Pic via Jennifer.
Swim: 40:37.2
Overall: 225/554
Gender: 68/200
Age group: 12/29
So the best part about swimming in the canal at the Flatwater Centre is the guide ropes about a metre down that they use to secure the markers for rowing events. If you can stay on top of the line, it's like swimming in a pool and you barely have to sight (to the point that at
Welland
I was running headfirst into the buoys).
But the guide ropes weren't in the canal. So we'd have to sight old school style, like a bunch of suckers. Damn it! I had been hoping to PB the swim course over my time from Welland, but with no lines to follow I was kind of resigned to being slower.
The swim overall was uneventful. Because I was in the second last wave this year there weren't as many people coming up behind to swim over me, although towards the end I was having to go around quite a few slower swimmers from earlier waves. A couple of times I lifted my head and found I was veering off into the middle of the canal, but mostly I swam pretty straight. It's such a familiar venue now, which is helpful for keeping the nerves calmed down.
And 40 minutes later the volunteer at the exit was hauling me onto my feet and I was running for transition. An entirely satisfactory swim - and even with having to sight, I was only 8 seconds off my Welland time, and 2 minutes faster than Barrelman last year. Really nothing to complain about! When I think about the fact that two years ago I hadn't swum a single lap of a pool, much less anything in open water, being able to crank out a 40 minute 2k swim in a race without giving it a whole lot of thought is pretty awesome.
Why is it always so much harder than it should be to find the damn pull string?
Heading for the stairs! Ahhhhhh there's Nicole! YAY!
I'd look up and smile for the camera but I'm way too worried about falling on my face. Pic via Nicole.
T1: 1:42
I had orders from Coach Zin to improve my transition time. Last year was 2:23, so consider that goal met. No taking my time here, just get changed, shove the wetsuit in the bag, and get the hell out onto the road!
Bike: 2:40:29.6 (avg speed 33.27 km/hr)
Overall: 169/554
Gender: 31/200
Age Group: 6/29
The bike was alright.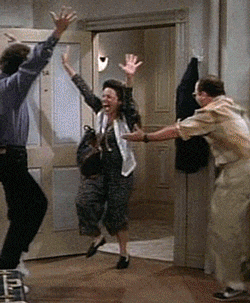 Yeah. I kept looking at my average speed, especially over the second half, and giggling maniacally to myself. This was just flat out fun.
It did take a little time to settle in - I was pacing by heart rate and it took about 5k for my heart rate monitor to settle down and stop grabbing my cadence, then another 10 or so to get my heart rate down to the 164ish target. There was a bit of a headwind over the first 20k but it didn't bother me. The worst parts for wind were by Lake Erie, where a few times the crosswinds caught my fancy borrowed wheels and I had to compensate a bit, but I was never worried. And soon enough we were turning towards Niagara and after that I positively felt like I was flying. The effort was bang on target, my speed was great, and my legs felt strong.
Around 56k ish. Looking like you know what you are doing is like 90% of the battle. Photo via Jennifer
I promise that is me. Coming out of the tunnel on Townline. I couldn't resist doing a little joyous yelling while I was in the tunnel...
Could really not have asked for a better ride! A 15 minute improvement over last year!
Now, there's a lot in that, and it's hard to say how much credit to give where. Last year I was on a road bike, this year a tri bike. A whole lot of training hours in between. More favourable wind this year. And of course those sexy wheels, which are a lot lighter than my stock wheels and at the very least provide a psychological advantage because they just look fast. So a big combo of things going into that time.
Altogether, I am thrilled with this ride!
All smiles into T2!
T2: 1:52
I had memorized my rack location on the map, so had no problem finding my spot and dumping out my bag of run gear. Quick change, shoved a gel in my bra for later in the run, and then out onto the run course. I was going to make a needed bathroom stop, but there were a few Iron Canucks there waiting for their relay team bikers and they were cheering and yelling for me and it felt like ducking into a porta potty would be kind of anticlimactic, so I figured I'd wait for the first aid station.
Run:
Ugh do I have to?
OK fine. It did end on a high note.
Run: 2:14:35.8
Overall: 181/554
Gender: 45/200
Age Group: 8/29
Yep, that would be my slowest half marathon ever. It didn't feel great right from the start. It was getting pretty hot and the humidity was ridiculus. There were a million clouds in the sky and yet somehow not a single one of them could be bothered to go over the sun, so I felt like I was slowly baking.
I ignored my watch, ignored my pace, tried to ignore all the speedy jerks on their second loops passing me, and just did one foot in front of the other until I got to the next aid station. At each aid station I grabbed water and Heed and walked until I'd gotten down fluids and dumped some over myself to try and cool down. I tried not to think about how many more kilometres were left and tried to zone out and just keep moving forward.
Big thanks to Multisport Canada for the aid stations every 2k. They were so needed on that day!
As I came up the parkway towards the end of the first loop, I saw Sam heading the other direction, which made me really happy because I knew that she must have had a big PB on the bike. And coming in to finish the loop was a big boost because of all the supporters - Zindine was looking sympathetic (OMG do I look that bad??!), and of course all the awesome cheer squad from my tri club, both the lucky ones who had finished their race for the day and those who came out to support. And I managed to catch Nicole's attention as I went past the finish although I can't remember what she yelled at me. Something encouraging!
Heading towards the start of the second loop; pic via Zindine
Three half irons, three high fives from Natalie. If I ever travel for a half I'm going to have to hire her to come with me! Pic via Jennifer.
I felt a little energized heading back out onto the second loop, and even entertained brief thoughts of negative splitting. Ha! Not bloody likely.
And now we run that whole damn loop again? WHY DO WE DO THIS TO OURSELVES? pic via Zindine
I made a brief effort to try and calculate my likely finish time, but halfway through the run of a half iron, the brain no worky so good and I quickly gave up on that and just settled on getting to the next aid station.
The second loop of the run had a very different feel to it. The fast, pushing hard, not walking dead people were gone. Already finished, those jerks. Now I was with my fellow sufferers. There were a lot of other people using a run/walk strategy, and it made me feel a little better that I wasn't the only one clearly not enjoying themselves much.
I'm pretty sure I managed to stick with my 'only walk the aid stations' plan (with the caveat that I counted that entire steep hill after aid station #3 as part of the aid station), which really is a pretty big success given how I felt. And eventually the km ticked off and I found myself at the last aid station with less than 2k to go and I was all 'fuck it let's wrap this bullshit up'. And from somewhere I started picking up the pace, and even passing some people.
At the 20k marker I started running hard, and with about 500m to go my teammate Danielle popped up with some words of encouragement. Then the finish line was in sight and the rest of the team was there yelling and OMG I was almost done.
And that's when things got weird.
Suddenly EVERYONE was yelling. People were screaming at me to go faster and I had no idea what was going on, but I just wanted to finish the damn race already so I went even harder.
I just want this to be over. It hurrrrrrts.
And then I heard Steve Fleck on the mic say something about the next person across the line winning something.
Honestly this all happened so fast that I didn't even process it until I was across the line, except I knew there was no one in front of me and I had no idea if anyone was close behind me, so I went as hard as I could.
(the finish video is best watched with sound so you can hear Nicole totally freaking out)
DID I JUST WIN THE COMPUTRAINER??
My 'holy shit I won' face. Also, far more importantly, stopping my watch.
And then Nicole was grabbing me and yelling 'YOU JUST WON THE $2000 TRAINER OH MY GOD' and John Salt was congratulating me and I think I almost threw up on them.
Total time: 5:39:14.9
Overall: 181/554
Gender: 45/200
Age Group: 8/29
Crazy. I have the damn thing unpacked in my basement and I still can't quite believe it actually happened.
Prize wins aside, I'm happy with the race. It was the best I had in me that day for sure. A ten minute PB for the course overall, thanks to a killer bike leg and faster transitions. Unfortunately, I gave back 10 minutes on the run over last year. If I can get that sorted out...well, that's an exciting potential goal time.
Maybe the best part of the day, though, was a lot of time with friends and teammates. Triathletes are so welcoming and friendly! When I think of all the people I've met over the last year and a half of doing triathlons, it kind of blows my mind.
The birthday girl and my idol Mellen. I'd say thank god I'm out of her age group next year, but I'm aging up to an even more competitive group. DAMN IT.
There's Sam!
Win a prize, get to stand on the podium. I'll take it!
Swag and bling. Love the race hat colour this year.
And that's a wrap on triathlons for this year. Time for some recovery. And then to start planning what comes next!